Aquafarming Solutions
Aquaculture System Specialists and proven aquaculture productivity partner
RADAQUA's 18 year history demonstrates a proven track record of delivering seafood production systems and aquatic environment technology solutions through innovative approaches to land-based Recirculating Aquaculture Systems (RAS). A client base in the Philippines, Singapore, China, the Middle East and Australia is testament to RADAQUA's capacity to successfully partner with clients and deliver in full, on time and to specification.
RADAQUA offers both a consultancy and construction service for the aquaculture industry for both marine and freshwater applications. As the preeminent supplier in Australia of RAS technology, RADAQUA has constructed over 30 production systems and hatcheries in Australia and overseas and has provided consultancy services to clients in the wider aquaculture industry, government bodies, educational institutions and research facilities. Supporting this innovative approach to RAS is RADAQUA's commitment to the client to develop sustainable, profitable aquaculture ventures through partnering in technology transfer, knowledge transfer, as well as increasing capacity in management practices and human resource development.
RADAQUA offers the unique service of a "Managed Recirculated Aquaculture System - MRAS". Allowing investors purely focused on security of seafood supply to enter the Aquaculture production industry. The management service ensures the success and economic viability of the targeted aquaculture venture.
Why Choose RADAQUA?
Benefits: Closed tank technology;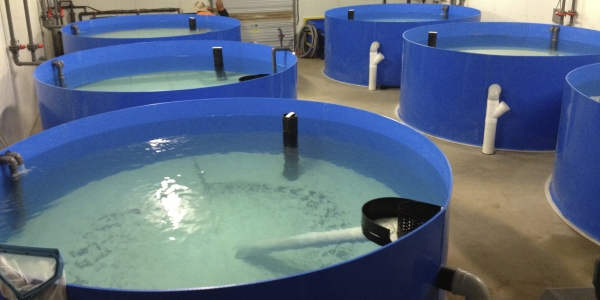 Bio-security
Highly Intensive - requires less land
Flexibility in its location, can locate close to prime markets
Benefits: Improved efficiencies;
Greater production per m2
Minimises environmental footprint
Integration of "Green Technologies"
Improved water utilisation
Benefits: Improved stock management
Enables higher stocking densities - up to 180kg/m³ (Murray Cod)
No seasonal variation
Greater stock traceability
Increased productivity through industry leading technology
Benefits: Partnering for Success
High level managerial support and staffing solutions
Knowledge transfer and industry training
Industry leading mentoring